Registered Investment Advisor (RIA) Cyber Security Assessment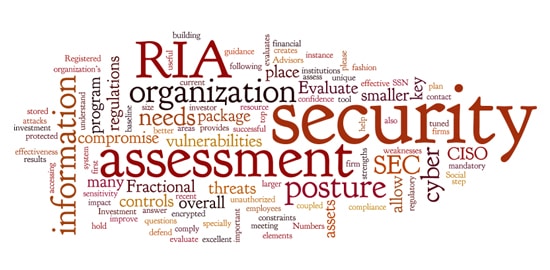 Registered Investment Advisors (RIAs) have unique security needs. The smaller size of many RIAs coupled with the sensitivity of the information that they hold creates many of the needs of larger financial institutions but with the resource constraints of a smaller organization. With any investment firm, investor confidence and compliance with the SEC's regulations are also mandatory elements for a successful security program.
RIA firms needs to have an excellent security posture. Fractional CISO provides a RIA cyber security assessment package that evaluates the security posture of the organization. This package is specially tuned to RIAs to allow for them to both comply with SEC regulations and assess where their overall security strengths and weaknesses are so they can better defend against cyber attacks.
Not only will the assessment be the first step in meeting the SEC's recent regulatory guidance but it will answer the following questions and evaluate some key areas:
What and where are the key information assets?
What are the important security threats?
What security controls are in place?
What vulnerabilities, if any, could allow for a system to be compromise? For instance if an RIA were to have Social Security Numbers (SSNs), are they stored in an encrypted fashion?
Is the organization protected from employees accessing unauthorized information?
Evaluate the top assets, threats, vulnerabilities, controls, impact of compromise.
Evaluate the overall effectiveness of the current security program in place.
The results of this security assessment is a useful tool to understand the organization's security posture and as a baseline for building an effective security plan.
For more information on how a Fractional CISO cybersecurity assessment can help improve the security posture of your organization please contact us at [email protected] or 617.658.3276.